LiveJasmin Review
4.0 out of 5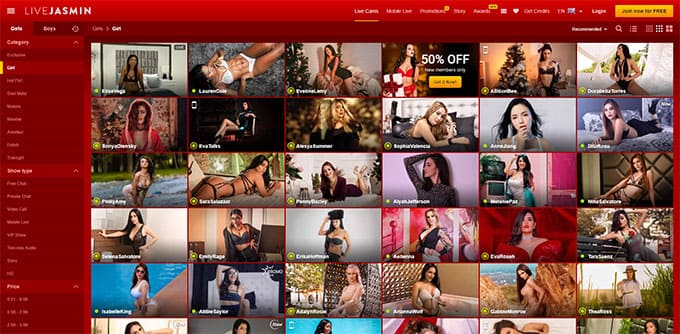 When you see LiveJasmin for the first time, you will get a feeling that this is a classy site. Of course, it is and the cam shows reflect the quality of the web design the site has. So, it is really a brilliant site to watch live cam sex.
Pros
Easy to navigate website
Almost all the live sex streams are in HD
Enjoy special features with private shows Girls available from all over the world
Cons
Relatively costly than other sites
Fewer couple cams
Your account gets limited if you don't buy credit for 30 days. Regardless of whether you had credits
LiveJasmin Overview
At LiveJasmin, you can connect with a multitude of incredible models in a fast, detailed and comfortable way. The site offers a selection of multiple options to fine-tune the desired profile range so you can more easily find exactly what you're looking for. The search criteria that the site offers is fairly comprehensive, offering the ability to choose the gender of the model, their age, the category that best suits your needs (pre-determined categories like: hot flirt, soul mate, mature woman, amateur, fetish, gay, and transgender), making it super simple to find exactly what you're looking for. You can narrow down your search even more by including physical and ethnic desires, preference for tattoos, piercings, measurements, hair color, among several others. With free chat options, private chat, video call, VIP shows, newcomers' section, recommended, most popular and exclusive- the site covers roughly everything you might want to find.
In addition, just by hovering over the image of the model you choose, a brief video of what you can expect from the model of your choice plays, and a sneak peek of what's to come. The thumbnails also indicate whether or not the model is online or already engaged in private chat. When you select a model, you get access to important details like, age and sexual preferences of each model, as well as a detailed menu of what they offer and what you can expect from a private chat.
The Good and the Bad
Strengths
LiveJasmin has a section of live awards where users can help push their favorite models to the top, being able to leave comments on them. Creating a rewarding feedback oppourtunity to ensure that your favorite is well taken care of. Which also gives new users access to the ratings of the models and helps them to better choose where to invest their credits. Allowing veterans to help curate the top model selection. The site also offers the Elite Club membership- where every time they buy credits, they are given a series of rewards points. Creating a loyalty program, where special treatment can be enjoyed by fans and additional monetary and prestige benefits make the subscription well worth it.
Weak Points
As LiveJasmin is one of the most visited cam sites on the web, there are peak hours in which the platform is so saturated, it can end up bogging down speeds and causing some serious lag in some countries. Even affecting its premium members- which is both a bit of a boon and bust for the site. The popularity and quality of the models does indeed attract high traffic (and therefore better models), but the server isn't always equipped to deal with it.
Site Use
In order to really enjoy the site's content, you will need to register. While there is always free registration, and an amount of casual browsing that's allowed- registration is undoubtedly the way to go, even if you don't plan on purchasing any credits. To register, you add your chosen username, password and email. When you click on the register button, the page makes it clear that you are accepting its terms and conditions. Which are laid out nicely in an easy to find TOS section. Following registration, you are then directed to the payment method page. Payment can be made by credit or debit card, PayPal, Paysafecard, Bitcoin and others, which will give you access to packages of different values and amounts of "credits" depending on the cost of each one.
In the available packages, besides gaining access to private shows with your favorite models and unlocking the hidden content of their nude albums, users can also enjoy other benefits: choosing the models you want to favorite for easy and quick access- meaning you don't have to go through the filtering process to find them again, watching unlimited shows, improved security and privacy, personalized suggestions,10 minutes of free viewing, and 5 Club Elite points.
Pricing
These packages are sold in the form of credits, which is the only currency you can use with the models. The inherent value of a credit works out to one minute of a private show.
$ 31.99 for 17.99 credits
$47.99 for 27.99 credits plus 1.99 free bonus credits
$106.99 for 67.99 credits plus 5.99 free bonus credits
$155.99 for 97.99 credits plus 7.99 free bonus credits
$ 249.99 for 157.99 credits plus 9.99 free bonus credits
Credits can also be used to send gifts, tip the model of your choice, as well as a few other excellent little surprises.
Security
LiveJasmin implements data loss prevention systems, against theft and violation, incorporating security technologies to ensure the safety of users' information. The site itself is incredibly secure and vows to never record or keep any live footage that is exchanged between a user and the models- however, they do collect quite a bit of data (IP address, geolocation, site use statistics and preferences) and provide some of this data to third parties. While most of the data they collect and retain is for supporting the technical aspects of the site, and to improve user experience- there is some that goes to support ad preferences and analytics.
General Impression
LiveJasmin deserves an 11 out of 10 stars, but- since our max is ten, we'll have to begrudgingly stop there.
Why Choose LiveJasmin?
Flawless user interface
Massive variety of models to choose from
High quality tech experience
Excellent interactivity
Great resolution
Reasonable pricing structure
Despite some of the security concerns and overtaxing of the site- LiveJasmin is absolutely an all-round winner. The site navigation is smooth and simple, terms, conditions, and security are all transparent and easily accessible- but probably most importantly- their models match their profile pictures and the private chat experiences are second to none.
Frequently Asked Questions
What is LiveJasmin?
LiveJasmin is an adult live video chat site, where Members and visitors meet amateur Models and PornStars from around the world. The Models broadcast video feed live from their home or studio, and interact with visitors in public or private rooms through video, voice, chat and messages.
What is cam2cam?
Cam2Cam is a feature that allows Members to share their camera feeds with Models in Private Chat. The feature can be enabled by clicking on the camera icon on the left side of Models' live camera feeds. It is important to mention that it may incur extra per-minute charges.
Are all the cameras live?
Yes! On LiveJasmin all online Models perform live in their chat room.
How do I chat with a model?
Once you enter a chat room, you may begin a conversation with the Model in the chat field. In the free area usually other visitors and Members also chat with the Model, who responds in a color different than the guests. To get recognized with a unique name and receive real attention from the Models, sign up to become a Member.
How can I find a specific model?
The easiest way to find your preferred Model is by entering simple words in the search bar on the top of the page, describing your preference (i.e.: age, ethnicity, hair and eye colors, body type, willingness, etc.). Specific Models may also be located by entering their performer name into the same search bar.