ImLive Review
0.0 out of 5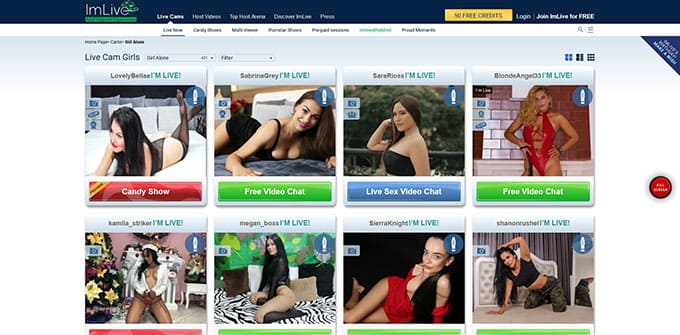 One of the best cam sites you can visit for live sex is surely ImLive. The site is functioning for many years and has plenty of loyal members who regularly visit the site to watch performers performing live sex. Also, the site is easy to navigate and you will surely enjoy watching some of the sexiest models in action.
Pros
Supports split screen live streams
Massive amounts choice with the models
No hiccups with the live streaming which is great
Awesome support
Features are amazing
Cons
A bit on the expensive side
Some models don't have free access
ImLive Overview
At ImLive you'll quickly find a mix of both free and private only chat rooms, where you can easily get a feel of what's to come. While this is pretty standard for most cam sites, ImLive tends to take this a bit further for the client- offering unlimited free chat time and an exciting twist of the standard search function of most sites. Where instead of standard filters, you can instead search options such as girl alone, candy shows, shy girls, fetishes, trans alone, love affairs, m/f couple, threesomes or groups, girl on girl, trans couple, gay, straight men and man on man. Not to worry though, the site elected to keep standard search options as well, so you'll still find filter staples like fetish, MILF, and teen.
Once you're registered, you can browse all models (unless they're otherwise engaged or offline) to your heart's content. Choose your favorite and head to a more discreet location, or excite everyone in the room by sending Bluetooth controlled vibes or nice gifts to your model. The site assures all users that private rooms are- in fact- private. Where they do not monitor the feed in these rooms.
ImLive also organizes a bunch of random community events, helping to liven up the entire experience- including a theme party every weekend. In it, users will vote for the winning model of the party, based on their excellent performance and the best costumes and accessories.  Can't make it to the party? No problem, take a peek at recap footage with the winning model in a private room and let them show you exactly why they took the prize. An added bonus- the site hosts "happy hour" where prices are drastically reduced for a limited time, and at happy hour- all customers can engage with personal requests- even in public rooms.
The Good and the Bad
Strengths
ImLive is among the best value cam sites when it comes to bang for your buck. Another excellent addition, that we'd be remiss not to point out, is the excellent customer service they provide. At ImLive they make sure that users are satisfied with the experience of both the platform itself and the models. Also, most of their models have a high quality of transmission with HD cameras and nice mic systems. Creating a truly immersive experience.
Weak Points
The downside to this site is that there are models who act only in private, so you don't really get to preview before you have to pay for it. Not to mention the site itself is a little more gritty than some of the top sites around. Which doesn't really reflect in its user interface or quality of models, just the surface experience. There are also occasional, but obvious, lags in live streams. While these lags rarely affect private chats and shows, they definitely cut into a few of the free streams.
Pricing
Nearly everything about ImLive is super streamlined for a simple and enjoyable user experience. Specifically their credit and pricing system. $1.00 equals 1 credit, regardless of how large a package is purchased. When you register you get a gift of 50 free credits. After that the purchases you make will be exactly as paid- no bonuses or extra offers.
$25.00 for 25 credits
$50.00 for 50 credits
$100.00 per 100 credits
While there are "discount" categories, a section where you can access the models who charge $0.98 per minute. This isn't really a significant price decrease and it can wreak havoc on your account balance. But hey, a discount is a discount, right?
Site Use
Possibly the greatest asset of ImLive is the amount of free access registered members can get, the chat rooms, the candy shows and talk in the general chat with the models, all without spending a dime.
You can access registration from the main menu, or by clicking pretty much anywhere within the free chat streams. Registering is free and you only have to put in your username, password and email. You will then be directed to the payment method of your choice- with options like credit cards, astropay, Paysafecard, PayPal and Pumapay, where you will later add your payment details.
The user interface throughout the site is simple and comfortable, accompanied by a search engine with a variety of options to facilitate your quest for the perfect models. You will also be able to minimize the stream you are currently interacting with to picture-in-picture mode, so you can continue browsing without losing sight of the content you were enjoying. The site also affects certain streams that are panable, so you can see every inch of the artist of choice.
Just by clicking on the photo of the model of your preference, you will have access to her camera and to the live chat function. You can also access personal information for the model in the gallery bar above, giving you instant access to all the important details you need.
Security
If you have registered for an account through their services, ImLive will retain your personal information for the period that your account is active. To keep your data secure, they have technological safeguards, including full end-to-end encryption, to help prevent unauthorized access, and maintain data security. They also participate with very few third party data collection services, and only when it's necessary for fraud prevention.
General Impression
Its rating is 8 out of 10 stars. ImLive genuinely has an overall great quality, great customer service and, even without special offers, has better value for money over others that top out the charts.
Why Choose ImLive?
Great value for money
Easy to navigate
Community events
Excellent security and privacy policy
"Happy Hour" pricing
Their site is also far more secure in their data collection and distribution policies. However, the site seems to lack some finesse when it comes to the finer details of overall look and function. Specifically, when compared to other sites of ImLive's caliber. But, that being said- the brass tacks are ImLive has gorgeous models, a secure server, all at a really excellent price. So you won't go wrong here.
Frequently Asked Questions
What is ImLive?
It is an adult live video chat site where members and visitors meet amateur models and porn stars from around the world.
How can I purchase additional credits on ImLive?
Adding Credits to an existing ImLive Account is fast and easy. Click on "Get Credits" on the top of the page, choose a payment method, choose the desired credit package and complete the Credits purchase process by entering the necessary details
How can I cancel my membership?
If you wish to cancel your membership, you can contact ImLive Customer Service by email or by visiting the Online Support Chat.
What protective measures does ImLive take to keep my data safe?
ImLive's billing platform meets the international requirements of (1) PCI DSS, and the company is regularly validated by (2) McAfee and VeriSign as well. This ensures that your data is always secure, so you don't have to be concerned while using ImLive.
What's the best way to interact with a cam model?
The best way is to simply say Hi and introduce yourself. Don't make any demands unless you're willing to tip for it and, most importantly, don't be rude. Models have no hesitations about blocking and/or reporting rude or obnoxious users.