CamSoda Review
4.6 out of 5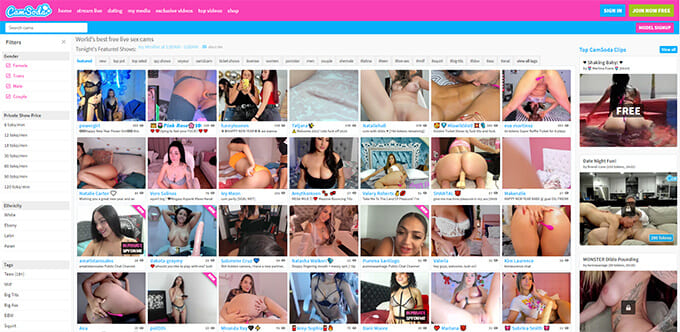 CamSoda is one of the most popular live cam sex sites. Also, the site is popular because of the number of models they have and the cost of their tokens which is very low. Therefore, you will never get bored by watching these models in action.
Pros
Mobile notifications for your favorite model
Shows from popular Pornstars are also available here
100 free Tokens for a friend referral
Cons
Not every model has HD cam
There are too many ads on the site, which can only be removed by signing up for a premium membership
Overview
With CamSoda, you can access live artists 24/7, featuring live porn stars, live virtual reality sex shows and a VR cam house. All available to you, from wherever you feel like watching. At Camsoda you can spy, chat and watch the live, as incredible beautiful and talented models make your wildest dreams come true- whether they are sleeping, showering or even having sex, completely free of charge. Maybe one of the best features of this particular Cam Site is how much free content they actually offer. The site also has a series of bots with which users can control what happens to the model of their choice by using tokens. Making it an entire new and interactive platform. Its search engine is adapted with a series of tabs to sort and view girls who are Latina, teen (18+), bbw, black, milf and more. You can also find girls who have webcams that specialize in toys, anal, ohmibod, lovense and even squirting. While there may be categories to the incredible fun they host- there definitely seems to be no limits.
In addition to watching the girls get naked for free, and (yes free) live sex shows- just by registering, choosing one of their token packages, referring a friend, or using their premium membership you will have instant access to free tokens (credit used on this platform). You can use these tokens to cover the costs of paid and private shows with the models, as well as control of the bots that will make them squirm.
The Good and the Bad
Strengths
Camsoda promises free content and delivers it 100 percent. It lets the user browse without any registration, gives full access to general shows and chat rooms without restriction; offering an unregistered user the opportunity to view, interact and then decide if it is the platform that suits their needs. As soon as you enter the page, you can see the thumbnails of each model- giving you your first, thirsty glance inside the site.
Weak Points
Firstly, the search function could improve quite a bit- since it lacks a decent filtering system and when selecting a specific category- those models may appear, but so will many others. Making it less of a dedicated search function and more of a hashtag request. Secondly (really there's only two bits we weren't pleased with) improving the advantages of their membership would be a worthwhile cause, as it doesn't really seem to deliver what the price would demand.
Pricing
Camsoda does not have a set rate for the shows, instead letting the models choose their own rate. Which works great for both users and models, as the user has a wide range of rates to choose from, and the models get to set their own limits. Prices range anywhere from 6 tokens per minute to 120 tokens per minute.
The premium Camsoda membership, for a price of $19.95 per month, gives you a clean and ad-free interface, the power to change the volume of tips haptics and other small user preferences, access to private messaging, plus the ability to become anonymous when tipping and chatting. You also get a cool 200 free tokens.
You can also buy tokens individually:
50 tokens for $5.99
100 tokens for $10.99
200 tokens for $20.99
400 tokens for $39.99
550 tokens for $49.99
With payment options for most standard Credit Cards, PayPal, Kryptonie, bank transfer or check.
Site Use
Camsoda is easy to use, just enter the page and you can access a ton of different models, quickly. To make things even easier- the site allows you to open a number of different free show video hosts without the need for registration. Giving you a solid peek at what the different hosts offer, as well as the wide selection of models that the site itself hosts. When you want to join, and you probably will- in the main menu you'll find the login option. From here, you can access the registration, where all you need to register is a username, password and email. After registering this data, you'll see a pop-up window that offers the ability to purchase tokens. You'll also receive a confirmation email that will be delivered to the address you've just registered.
This seems to further simplify the overall user interface of the site- making it super easy to buy tokens (which function similarly to credits)- which you can then spend in a variety of ways to better interact with your model of choice. So decide how many tokens you'd like to buy, then select your payment option. Of which there are many. One of the better things about CamSoda are the payment platforms that they work with- from standard bank and credit institutions to online providers like PayPal, Venmo, and even Apple and GooglePay.
Now that you're fully registered and have a pocket full of tokens- the real fun begins. Start browsing their available models, and use tokens for all sorts of exciting interactions between you and your chosen host.
Security
Camsoda has a privacy policy that you can check out before you register. The website itself is secure, and they always assure discretion. The site also offers 24/7 customer service, ready to lend tech support, field any questions you might have, professionally deal with any issues that crop up, or permanently remove yourself from their database. As for the payments, they will provide you with a link to a web page where you will securely send your payment information. Never to be shared and always handled through a secure web browser. So in terms of safety and security, CamSoda is definitely one we'd recommend.
General Impression
We happily give Camsoda 9 out of 10 stars. While the search engine and premium membership perks did let us down a bit, the rest of the site, models, and user interface more than made up for it.
Why Choose Camsoda?
Solid models
Nice selection
Smooth interface and user experience
Easy navigation
Fun accessories and interactivity
Overall it's a truly enjoyable experience that you can easily tailor to individual tastes and desires. The simple, straightforward, and secure payment system coupled with the interactivity of site-only gadgets and chats made us definitely want to keep coming back for more.
Frequently Asked Questions
What is Sex CamSoda Free Live Cam Girls?
CamSoda is a free live cam girls online video network which is connecting men and women from all over the world through high-speed live video chat with a full audio support and HD quality,
Are all Live Cam Girls webcams live are free?
Yes, they are. All CamSoda Live Cam Girls rooms are open to everybody. On top some special chat features are only open for premium users.
Does CamSoda have a mobile version?
Yes, CamSoda is available on all devices.
Can I chat privately with models?
Sure! Premium users can send private messages to the models any time. Additional features are open for premium users in private chats.
Does CamSoda offer cam2cam?
cam2cam is the most favorite feature of premium members. Premium members can turn on their own webcam any time and show it to models or other members. Just click the start your webcam link in the top-right corner of the website.